The word "print" brings images of thousands of vibrant, monochrome, sorted or abstract pattern in our mind. Some comes with a comfort and with complexity, perhaps due to experiences associated with those prints. Print that by definition,is an indentation or mark made on a surface or soft substance is actually an expression of view, emotions, culture and beliefs. In the era of machine we have different process of printing such as digital printing, screen printing and hand printing. Being an organisation that believe in handcrafted legacy we have been extensively working on different hand printed craft such kalamkari, dabu, ajarak, batik, block prints. As in this blog we want to talk about our favourite printed Kurtis so we won't go the history of hand printing!
Our printed collection is inspired from handmade clothes blockprinting of India. Each of Bebaak's printed outfit is authentically hand block printed by rural artisans of India. In hand block printing there are some interesting motifs around which story of textile printing has been developed.
Floral Print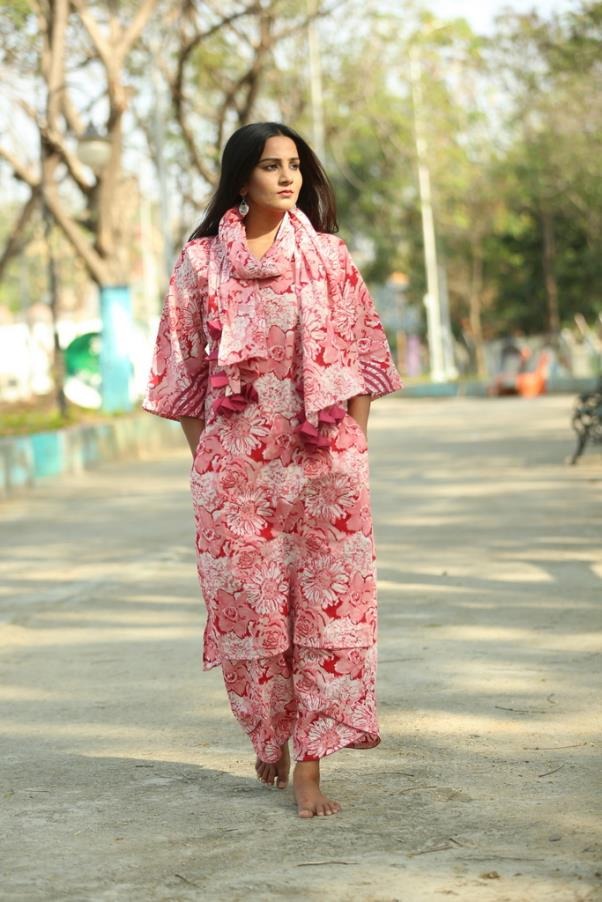 When motifs are inspired from variety and arrangement of flowers, it is called as floral print. As we see flowers have deep meaning and symbol, so people have been aspire to bring the same feeling through floral outfit in their personality. Also different flowers have been celebrated in various cultures so they bring a versatile aesthetic value in fashion. Floral print brings a charm and elegance along with it.
Geometrical Print
Geometric motifs are inspired from patterns of nature or architect. Geometrical prints are associated with the expression of strength, values and freedom. People have started experimenting with such patterns to bring edgy and bold statement.  Geometrical motif inspired outfit brings a contemporary twist in the look.
Animal/ Fauna Prints
When depiction of animal's life is done through printing story it know was animal print. Animal prints are quite interesting, as with different combination they can be quite charming or bold in expression.
Culture inspired prints
Some print stories are inspired from culture, beliefs and life of society. Such prints create a bohemian style that express the past in contemporary way.
Our favourite printed Kurtas from Bebaak's collection
Kurtas are most loved outfit in Indian sub-continent, considering the kind of comfort, style and variety it brings. While we have variety of craft inspired Kurtas, printed Kurtas are most beautiful and easy to go option.
Floral print ocean green stand collar Kurta
We believe confidence is beautiful. Enhance that inner beauty with this regal ocean green floral printed Kurta.Team it with palazzo or pant for charming look. Perfect cotton Kurta for working women and girls.
Detail:
Craft: Hand block print
Fabric: Cotton
Pattern: Floral motif inspired from bunch in garden
Stand collar and panelled
Color: Ocean green
Mughal Print off white sleeveless straight Kurta
Be your own kind of beautiful and let the authentic outfit enhance that beauty. Featuring beautiful cotton mughal print Kurta from the basket of Albeli. Utterly comfortable and must have cotton Kurta. One of the most beautiful outfit from women Kurta range.
About Product:
Craft: Hand block print
Fabric: Cotton
Pattern: Small plant of flowers depicting floral print
Sleeve less and straight fit
Color: Off white
Geometrical pistachio stand collar Kurta
We are born to be real, not to be perfect. Keep celebrating authenticity within you and around you. Featuring pestle pistachio Kurta cherishing vintage craft and contemporary look. Try the beautiful ensemble of same on same for unique styling. Fresh looking Kurta for women with its color and motif
About Product:
Craft: Hand block print
Fabric: Cotton
Pattern: Geometrical print
Stand collar and front placket
Color: Pistachio
These are some our favourite printed Kurta and palazzo ensemble from BebaakStudio.