Whether you are in the mood of a light meal or craving for a potluck dish, salads bowls are a great choice to make your belly happy. Seafood is the most preferred choice when it comes to eating something light, delicious, and healthy. And adding it to a bowl of leafy green will blow your taste buds out of the water. You can make your daily boring meal light and refresh with a few chunks of fish or a few pieces of shrimp to your bowl of green veggies.  In this article, we have put together some delicious and healthy seafood salad bowls recipes that you will love: 
Tuna Salad
It's very surprising how a few herbs and juicy vegetables can add such amazing flavors in a tuna salad. Tuna Salad bowl will be a great addition to your healthy and balanced diet plan.  
Ingredients required:
Two tablespoons of minced celery. 

One tablespoon minced parsley having flat-leaf.

Lemon Juice (freshly squeezed).

Black pepper (freshly grounded).

1/3rd cup of mayonnaise.

One tablespoon mustard (whole-grain).

Two tablespoons of red onion. 

6-ounce cans of white meat tune.
Directions: 
Soak the red onion in cold water for 5 minutes till they get little soggy and take out tuna meat from can wash and drain it properly. Then, take a fork to break tuna into small pieces. Put tuna pieces in a mixing bowl and toss it with onion, parsley, and celery. Add mustard and mayonnaise, and season the salad with pepper. Add pepper according to taste. Stir the ingredients to combine and, in the end, add lemon juice, to taste. 
Cooking note:
Substitute mayonnaise with hung curd or use low-fat mayonnaise instead. 
Thai Seafood and Noodle Salad
The Thai seafood and noodle salad bowl is an Asian inspired recipe. A perfectly garnished and dressing can transform a bland bowl of poached fish and glass noodles into a juicy, light, and flavored dish.    
Ingredients required:
6-ounce of Glass Noodles.
Two red Thai Chiles (thinly sliced).
Three seeded plum tomatoes (diced).
One cups each of bean sprouts and mint leaves. 
1/2 cup roasted peanuts (salted).
Six butter lettuce leaves
1/2 pound shrimp and small squid.
1/2 small red onion (thinly sliced).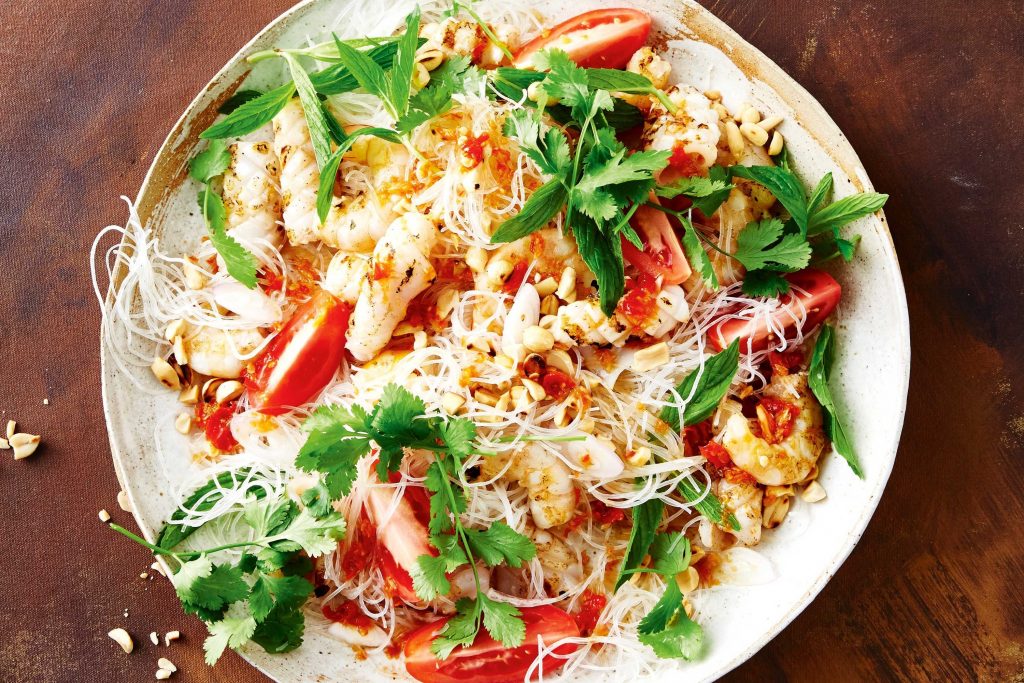 Directions:
Give a boil to water and leave glass noodles to soak in for about 30 minutes. Meanwhile, pound the Thai Chiles, one tablespoon sugar, and garlic in a mortar to make a thick paste. Add lemon juice, boiling water, fish juice, and remaining sugar to it. Pound the ingredients until the sugar dissolves: Cook squid, shrimps, and scallops in boiling water for 30 minutes. Take a large bowl, toss seafood with noodles and mix it well with the prepared paste. Serve the salad on lettuce leaves and garnish it with celery. 
Everybody who loves seafood has a particular preference when it comes to lobster. It is crunchy and delicious, and when added to a bowl of veggies can turn the bland salad to something delightful. 
Ingredients required:
One small tomato (thinly sliced).
1/2 white onion (freshly sliced).
1/6 tablespoon pepper (freshly grounded).
2 cups mixed green veggies.
1/2 pound cooked lobster meat (sliced in small pieces).
Directions:
Toss pieces of lobster and melted butter in a bowl, and then stir it with mayonnaise. Top it with lemon juice and keep it in the refrigerator for about 30 minutes. Take out the bowl from the fridge and mix green veggies, onion, and tomatoes into it. Toss and serve the health and tasty bowl.
Salmon and Avocado Salad mix
People usually love salmon during winter, and mixing it with fresh and healthy vegetables is a great choice to eat healthily. There are many ways to cook salmon, but the best is to keep it moist and tender. Don't overcook it else it will become awful and scorched. 
Ingredients required:
One avocado (cored and halved)

1 1/2 cups drained pink salmon (from the can) 

1/2 cup  onion and celery (finely chopped)

1/4 cup mayonnaise

3/4 teaspoon dried dill

3/4 teaspoon lemon juice

3/4 teaspoon seasoned salt
Directions:
Mix together onions, celery and salmon in a bowl. Add mayonnaise and stir it to mix properly. Season the salad with salt and dried dill. Put the prepared mixture inside the refrigerator and take it out after 20 minutes. Serve the salad by scooping out it over halved avocado. 
Conclusion
These are some super delicious and healthy salad recipes that you would love to add to your diet. Read more recipes and more from national English news daily. You can even subscribe to get regular updates about delicious recipes, home remedies, and more.