The latest web design trends and tactics head us towards the growth of technology and make it visible where the web has reached today. Today, no business can move towards success without having a website. The brand's website is very crucial to represent your products or services related information. All in all, having a creative and responsive website helps the consumers analyze the credibility and quality of services or goods offered by you. 
Creating a website is easy but is quite daunting too as your main focus is to drive the traffic. And it is only possible if you create the website keeping the targeted demographics in mind. This will help you draw more and more audience attention and persuade them to use services or buy the goods offered by you.    
Where the web design will always remain a crucial part, it is also a fact that the trends for web designing will continue to change. But the main focus will always remain on creating the websites that attract the audience and holds their attention as this is the one challenge that every business has to face.  
Ultimately, designing a website means it does not look very experimental as what is more important is responsiveness and uniqueness. Let us talk about the latest web design trends for 2019 and how you can implement them to attain the website that takes your business to new heights. 
Focus On User-Experience
It is very obvious and always said that customer satisfaction is the key to business success. Even the audience demands an appealing and enjoyable website that is easy to navigate. 
For instance, if your website structure is very intricated or people find it very annoying to use your site then this will lead to a loss for your business rather than improving your business ROI. 
In earlier times, it was seen that the main focus of businesses was to have a trendy website design and always neglected the user behavior, their interests, and requirements. But here, it is the need to understand that trendy design won't work until your site isn't able to convert the visitors into leads and finally offering the great experience.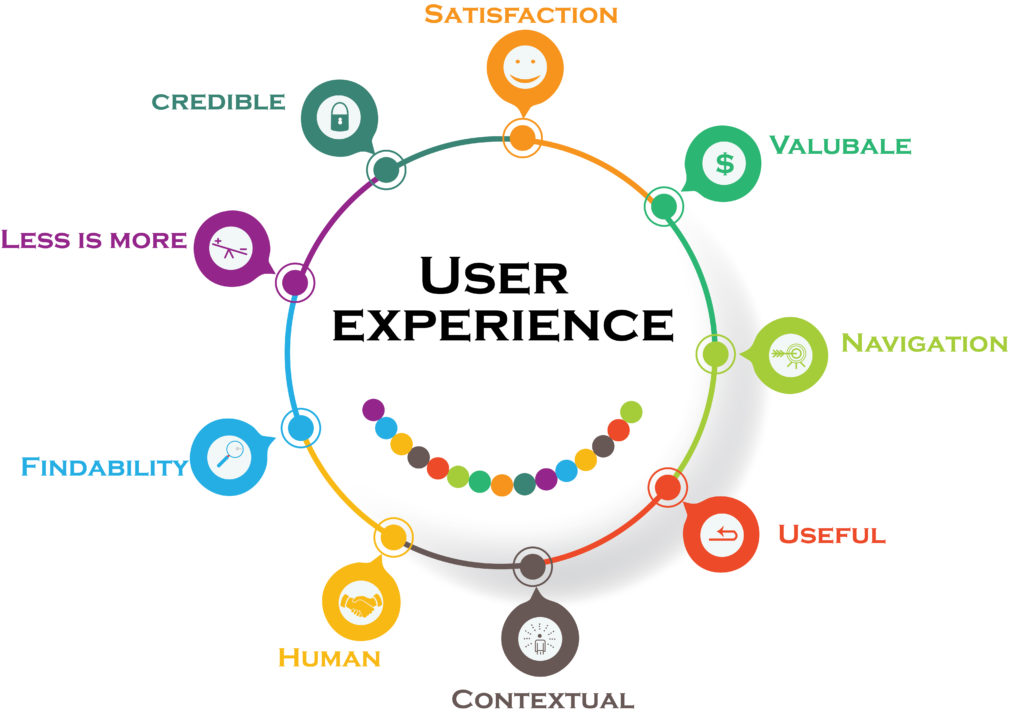 Image Source: Usertestingarabic
So, if you are having a website that directly sells the products then adding them into the cart, choosing the payment options, and making the purchase all should be seamless. Make your site more navigational, drive huge traffic, and have a successful business for the long run. 
Mobile-Friendliness
Today, people search their queries more from mobile phones as compared to desktops or laptops. This means there is a need for providing your users with a heavenly mobile experience. If you will offer a poor mobile experience then you'll surely lose all your customers and will face a decline in your business growth.
Having the website that is not mobile-friendly means it won't rank on the search engines. Neither it will be able to generate the desired traffic nor it will retain the existing customers. 
If still, your site isn't mobile-friendly then you need to consider some important things. 
Designing a mobile-friendly site is not a trend but is a necessity. So, the one perfect way to upgrade your site for mobile devices is to update its responsive design. Implement a responsive web layout that will automatically adjust the website or screen size on which it is being viewed on. 
Integration Of Videos Is Still Dominating
All the signs and popularity of videos show that it is the future. You might see all the day on social media like Facebook, Instagram, and others are doubling more on video content and according to the stats, YouTube has already become the second largest search engine after Google. 
Even the most emerging trend in 2019 is video, so if you haven't embraced this video trend then it's the right time to do so. 
Video is a perfect customer-engagement medium and helps you establish a good bond with the visitors. Adding videos on your site does not only act as a part of website design but also plays a significant role in retaining the users and providing them the information relevant to your goods or services.  
So, add videos to your website homepage and content too so that it improves your rankings on serach engines. Google also comes with user engagement metrics that determine the quality of the site. So, create high-quality, engaging videos where users spend their time and help your site in ranking on the top of SERPs. 
Use Of Animations & High-Quality Images
Implementation of animations and graphics is another latest and effective web design Toronto that helps the brand in conveying the messages to the audience. There are a variety of tools like automatic retouching and more with the help of which you can customize your messages that fit your business and are relevant to your niche. 
Image Source: avb.asia
So, embed the animations, graphics, and visualizations in your content to stand out in the crowd and improve the user experience, engagement, and relationships. 
Nostalgic Design Elements
Our web design trends also move in a circular motion the way fashion trends move. The designs of the 80s and 90s can be recreated and color schemes can be embraced to achieve a wholly unique design.
So, if this design idea suits you then consider the implementation of color schemes from the earlier times. Moreover, you can find the ideas for design elements from the web too but ensure your design is wholly unique and does not exist on the web. 
Final Thoughts
Ultimately, counting on the web design trends and implementing them in the right manner can help you attract a huge number of visitors and predict your website's performance. So, spend some more time examining the latest web design trends and implement any of them which can further improve your site's rankings and enhance its overall design. However, it does not matter whether you want to redesign your site or not, these trends are important to implement to retain your existing customers. So, invest in all these trends and take your online venture ahead of your competition. All the Best!