Cabinets are amazing accessories that you can add to your modern house to make it interesting and attractive. There are many cabinet designs that exist and can be used both in commercial and residential buildings. When buying glass display cabinets, you ought to check on the size, the glass material used to make it and the types of doors that are installed. This would help you evaluate the need to add it to your office space. Enhancing the beauty of an office may also be possible through the incorporation of display cabinets that are trendy and stylish. This is an approach that has been used often by office owners in the modern corporate world. When you utilize the many available techniques used in the installation of the display cabinets, you can achieve a great looking interior décor which will be amazing and interesting. Every installation, however, should be considerate of the space available, the elegance of the cabinet and the office needs for storage. This article will highlight how display cabinets enhance the beauty and functionality of a small office in the modern corporate world.
Display Cabinets are Useful for Expanded Storage within the Office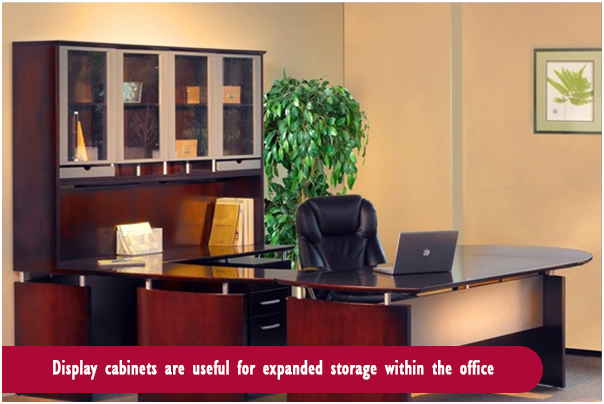 Storage is an important factor that every office owner needs. Files, documents among other essential items within the office require careful arrangement so that they can be retrieved easily. A display cabinet makes it easy for the office owners to arrange the items that they frequently use to provide services to clients. A glass cabinet that is perfectly installed in a strategic position within the office can make it look more elegant and attractive. When installing cabinets, one should check the position of installation so that they can have an attractive interior décor which is not clumsy. This would be a nice idea on use of cabinets in the room
Glass Display Cabinets to Showcase Invaluable Items
Companies and businesses always have items to display to their customers. It is used to gain the confidence of customers when they are visiting the office to get services. Usually, there are many ways you can install the display cabinets within an office to make space look beautiful. Displaying invaluable items at the entrance or reception area of an office can improve its beauty drastically. For instance, a business owner may decide to showcase accolades and achievement awards they have received in the line of their work. This can help them gain more confidence of their customers. Also, the display cabinets can be used to showcase artwork that is unique and attractive.
Glass Display Cabinets to Display Unique Collectibles
There are many collectibles that can be used to beautify an office. Collectibles such as seashells have been known to help in making the interior décor of a particular space more beautiful and attractive. The design of the display cabinet can influence the type of collectibles that are put inside. When the cabinet is large, then large collectibles can be placed inside. For a small office, small cabinets are used for décor which makes it even more ergonomic on space utility. The small cabinets can also be used as a display for the collectibles of different types. If you are looking for a way to beautify your office interior, the collectibles will make a great addition to your interior. This is great before you advance to more unique and complex interior décor ideas which are more popular.
Installing Suspended Cabinets for Office Beautification
Suspending glass cabinets is an idea which can be utilized within a small office. The suspension can be made using wire cables ropes that are specially designed. The ropes can be painted in a unique color that is attractive and matches the color theme of the house. When adding color to the ropes, the main theme of the interior décor ought to be considered. Consequently, when suspension cables are used, they ought to be perfectly intertwined with each other to form stronger support. The suspension cables or ropes are often fitted in the ceiling so that they can have an attractive look and orientation.
Using Movable Cabinets in Office Kitchens
Office kitchens are often used for cooking meals for all the personnel. The cabinets can be used for the storage of utensils and can be moved to different rooms where they are needed. If the office is small, a movable display cabinet can be a great accessory to make the space more economical and usable. You can comfortably store utensils and retrieve them whenever they are required. This is also one of the most popular cabinet ideas for home. Owners with small homes without enough space can utilize this to upgrade the look of their interior décor. It is more modernized than the traditional types which were not attractive.