Whether you start a Technology website, or you want to build up a blog with WordPress development writing something to connect with your readers, the logo will be needed and can represent much of your creation. Find a designer to design it for you? The price ranges from $5 to 1000+ (Data is collected from Fiverr). The results? Hard to tell!
If you are looking for a free method to make a logo online, after multiple trials, the most likely results are either ugly logos or that you end up with payment options. (Millions of online resources play the FREE tricks dishonestly, a user will never know he has to pay until the very last step.) So today, as the Tech Critics, we will make it end up and bring you with the proven method to get a pretty decent Tech/blog logo for free. For businesses, DesignEvo can be a good option to make a right logo for the company.
Check What You Can Get with DesignEvo:
*Design your logo online with 6000+ logo templates as options,
*Registration-free to download a free logo within a size of 500 px * 500 px,
*Finish a logo within 1 – 10 Minutes.
*Drag-and-drop navigations.
*100+ fonts, millions of searchable icons, …
6000 + Logo Templates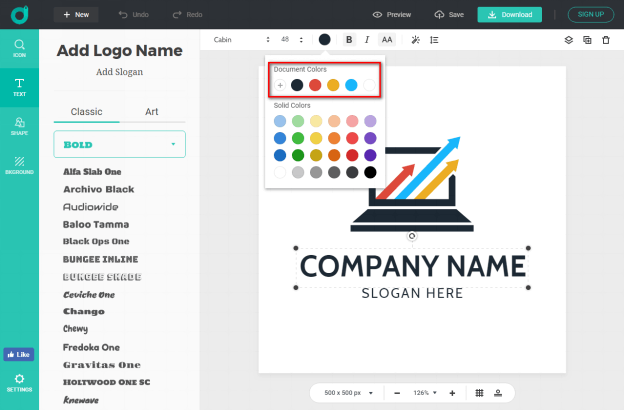 When you first launch DesignEvo in a browser, the first greeting interface is a template-rich window. On the left side, you can easily find accesses to various purposes: Abstract, Animal & Pet, Art & Entertainment, Technology & Communication, in all, there are 17 categories with a Popular option. For most of us, the most straightforward way to use this feature is by running the search box. Try with a keyword and keystroke [Enter], this online mini-app will render hundreds of designer-prepared templates in this tag. Click a template and select whatever in the canvas, even you are no design-savvy, the rest navigations and customizations will run smoothly. Also note that there is no template locked, which means you can get full access to all of those logo templates for free.
Easy to Navigate, Finish a Logo in 1- 10 Minutes
Grab a keyword, customize a template, preview and download the logo design. These processes can be finished within 1-10 minutes, given how many modifications you want to make. What we like about DesignEvo is that it displays the recommended options in the upfront. For example, when you are about to modify a color (whether it's a font color or a graphic color), DesignEvo will list the used colors in the [Document Color] block by default.
100+ Fonts, Millions of Searchable Icons
If you don't have any ideas for the logo design, those fonts, shapes, icons may give you some thoughts. Go [ICON]/[TEXT]/[SHAPE]/[BACKGROUND], the options are demonstrated. The [ICON] feature is pretty similar to the previous template feature. After a run of a search, related results will show for choices. Click one to give it a try, click another one to make a change. Likewise, you are allowed to drag and drop it to any position on the canvas like you do it in any other graphics software. Again, the color option and the style could be changed in the function bar on the top.
Free Download Option, Registration-Free
Previously, we've mentioned that it's "Registration-free to download a free logo within a size of 500 px * 500 px". It's true when you use the default canvas. Opt for [Download], FREE [Choose] in serial. Then it will download your design to your PC. The download includes two files – JPG and PNG. (Real image without watermark!) For higher requirements, you may consider the BASIC or PLUS option: higher-resolution raster image and vector image. All these options are at a competitive price.
Finally
Concluding the review, we think DesignEvo pretty handy to make a logo with zero experience. Options are enough for an average user and a good-looking logo. Frankly speaking, it's a handsome tool to go for a logo. Who doesn't like the free option? Who doesn't prefer easy ways? DesignEvo has both merits for a startup logo.