Education is all about inspiring and imparting knowledge. There are many educational institutions offering varieties of courses around. However, as more and more educational institutions popped up in recent years, it's become a challenge to stand out. Embracing a branding strategy has further fuelled this competition. Even some of them are heavily funding their branding journeys to entice students, parents and teachers alike! If you too are looking for ways to create a brand identity for your school, get a logo first.
A logo speaks for your educational organization. It also helps in making a good impression among your students. But some organizations fail to decipher a logo's essence and remained limited to the clichéd geometric shapes, shields and the picture of the rising sun in the background. That's where they fail miserably!
It doesn't matter whether you're running a school, university or institute on the ground or handing an e-learning campus, a well-thought-of education logo is essential. Don't worry if you're short on ideas. These logo examples will help you garner some inspiration.
1. Hawaii Rainbow Academy
The logo of Hawaii Rainbow Academy perfectly captures the essence of its name. The logo includes happy children, book, Hawaiian topography, and rainbow. They are used coherently to create a unique brand image. Even the colors that have been chosen carry special meanings such as energy, nature, happiness, intelligence, and socialization. The conventional round shape, going from one edge of the book icon to another, signifies the sign of authenticity.
2. The Children's Reading Foundation
If minimalism is your branding strategy, go for this CRF logo. The education logo depicts three barebones shapes visualizing an adult helping a child to read or develop a habit of reading. Not only the typeface is simple, but it also blends with simple color schemes. The use of warm and color tones binds each element perfectly. Minimal, simple but powerful, there is nothing else to get the brand identity straight to the hearts!
3. Rio Lindo Elementary School, CA
The logo of Rio Lindo Elementary School signifies imagination, learning, exploration, new frontiers and achievement altogether. The logo includes a spaceship taking off from a book, going into space and discovering new horizons. Not only the design showcases action, but simple shapes and brilliant use of negative spaces keep it free of clutter.
4. ClassDojo
When you want to witness random brilliance, see nothing but the logo of Class Dojo. The logo includes a jolly green blob wearing a karate headband. The cheerful mascot perfectly sells the brand name and personality of ClassDojo— a community learning app. The use of colors like green, blue, and black is also praiseworthy as it captures one's attention easily.
5. Arlington Public Schools, WA
The Arlington Public Schools logo is yet another example of a brilliant education logo. The use of the Washington landscape in a simple graduation cap is of course noteworthy. Look closely, and you'll find mountains in the graduation cap. It depicts the location of Arlington tucked in the beautiful foothills of the Cascade Range. All in all, the logo though being simple has special meanings hidden behind.
6. Coach.me
Want to tell your brand story using just a few elements? Take the inspiration from the logo of Coach.me. This coaching app is a community of all-time students who help others in setting new goals, developing new skills and forming good habits. The word "me" used at the end of the logo points towards the megaphone. This fine touch of wordmark signifies the idea of individual growth with the help of peer motivation.
7. River City Preschool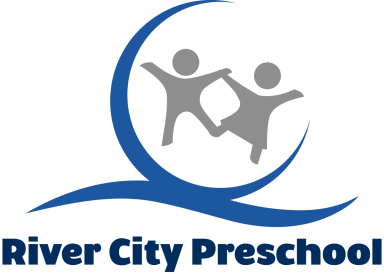 The logo of River City Preschool is one of the best education logo designs. It looks simple, but it's meaningful and carries the brand identity perfectly. The design includes two children playing and full of happiness. The use of gray and blue shades is symbolic as well. The curvy line stands for the flow of life just like a river and also depicts kids' excitement. When you look closely, you will find that the curvy lines look like a bird and kids are riding on it. Well, it symbolizes the imagination of kids going above the sky.
8. Auburn Education Association, WA
The stock imagery for education has no dearth of apple logos. The image of apple significantly depicts the meaning of 'knowledge'. Creating a fresh design from a clichéd symbol isn't so easy. However, Auburn Education Association did this by giving a facelift to the conventional apple symbol. The apple-themed monogram featuring the initials of this school looks quirky and straightforward. The lettering is also unique and readable.
9. Hofstra University Athletics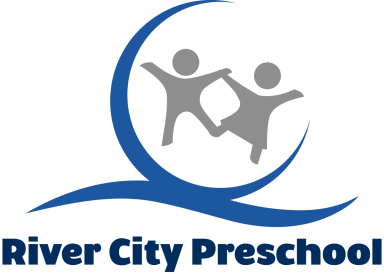 The logo of Hofstra University Athletics showcases lion-hearted spirit. The institution is meant for athletes, and it is best depicted by the mascots used in the logo. The typeface is bold that matches well with the mascots.
10. Vanderbilt University
Using oak leaf and acorn are regular while designing a school logo. But Vanderbilt University twisted the clichéd idea and came up with a fresh concept. They turned the common symbol and created an eye-catching monogram depicting strength, wisdom, and leadership with a new vision. The negative space of the letter 'V' has been utilized smartly to create an oak leaf.
So, do not constrain yourself to the clichéd logo styles when you can take inspiration from the above logos and create a new one! Stand out in a much competitive industry like education, and let your students feel that you want them to rise, grow, and learn fast. You can also take help from professional logo makers like Designhill to create a stunning logo for your educational institute and set the right tone for branding.
Author Bio
Anne Carton is a small business consultant, designer and an enthusiast blogger working with Designhill, one of the fastest-growing custom design marketplace. She has authored several blogs, articles and editorials on various topics related to book cover design, brochure design, interactive content, concerning design, social media strategies, growth hack strategies, digital marketing and e-commerce. Follow me on Twitter @annecarton04