The Tempting Food and Exotic Destinations – My Travel Experience to Morocco
Exhausted and tired, it was almost 5 days that I looked like an addict because of the workload. I was in a dire need of a vacation at a peaceful place without any emails or unnecessary/work relevant phone calls. The first fun step to the journey was ditching to one of the important family gatherings and leaving work for some days. I had a ticket to Morocco in my hands that was booked by Virikson Morocco Holidays and suddenly everyone had an opinion. I was suddenly surrounded by everyone asking me to postpone my plan or drop the idea. There was one thing magical in a moment and it was that I refused to listen to all these speeches. I took my flight the next day and landed in Marrakech, feeling remorseful but my heart was affirmative about this sudden decision.  Well, making a long story short, I was frustrated form the routine and it was a much-needed break but without any guarantee of the successful trip. However, after relaxing for rest of the day, the real sensorial journey begins.
The Thrilling Yet a Peaceful Charm of Morocco
Let's start it from the thrilling & exciting Marrakech. This city is always enlightened and whether it's day or night, it always looks like a festival season. Other than the exciting cultural experience at Jemaa El Fna, there is a pure architectural representation that is preserved really well. Bahia Palace is one of the best sites that shows the Moorish cultural interests more about the history of Morocco.
As I mentioned before, I was looking for tranquillity, here comes a peaceful Palm Oasis Palmeraie. It is a little bit away from the city but a perfect place for peace seekers. Yes, it took me a while to fall in love with the tranquillity of the place but eventually, I started loving it (by that moment, time of tour was near to end.).
Cool breeze at the Essaouira port
I love long road trips just looking out of the window and feeling the breeze. You can say it that I enjoy peace on the roads with wind cuddling with my hairs. Anyways, I was a good time with other people in the group and then we reach the port of Essaouira. Although it was a little crowded there is a certain thrill at the place. I got a family around with 2 very cute kids. And when kids are around there is nothing you can ignore. The port of Essaouira is amazing and authorities have managed things amazingly. There are cafes around it and you can enjoy a delicious seafood.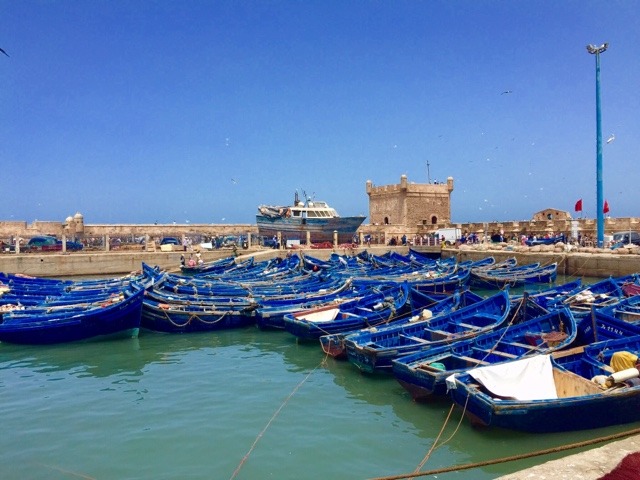 Never-Ending Love for the hill tribes
Headed towards the Atlas Mountains for the sake of love. Yes, it was a love for trekking and visiting these small villages on foot. Our driver asked for the conveyance facility but I liked it walking down to the villages and meeting children. They looked so happy and in peace that nobody can match their level of excitement. Everybody seems so grateful for their life. It actually makes me wonder about the fact that how ungrateful we are despite having all re desires fulfilled by the little effort.
People in tribes were extremely hospitable, they know the values follow the humanity and most importantly served us with yummiest mint tea. Other than that there is a trekking fun to the peaks of the mountains.
However, Morocco is all about cultural history, a colourful charm and the beauty that leaves all your senses to go numb and thoughts bewildered. Indeed, the place is love and couldn't be described in words. If you're now craving to visit this mind-blowing country, plan your cheap holidays to Morocco now. The country is quite diverse and has a lot to offer so, never assume it a onetime tour to Morocco.